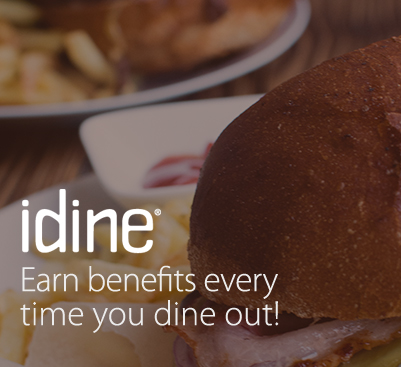 iDine is for people who like to eat out ...
Do you like eating out? Does the thought of someone other than you preparing your meals leave you breathless with anticipation? Do you like fast food just as much as fine dining? Then you need to check out iDine.
How it Works...
iDine
is a cash back dining program that works with your existing credit and debit cards. During the signup process, you can register up to 5 credit/debit cards. Then when you dine out at participating restaurants (including fast food and fine dining) and pay with your enrolled credit/debit card, you earn a percentage back on what you spend.
Within a few days of your dining experience, a survey will be waiting for you in your account on the iDine website. After you fill out the survey, your cash back percentage will be added to your account. When your benefits total at least $20, iDine will mail you an
American Express Rewards Card
for the total amount you've earned.
Stand Up To Cancer
I first became intrigued with iDine after seeing a commercial for the program during the Sunday night football game. In the ad, actor Ray Romano surprises a woman who uses her credit card that is enrolled in iDine to pay for her meal. That's because when you spend $15 or more at participating restaurants with your Mastercard, iDine will donate $.50 to Stand Up To Cancer.
Click here to if video is not shown
The more you eat out at program restaurants, the higher the percentage of cash back.
With iDine, you start out earning 5% cash back at participating restuarants. Then you move up to earning 10% back per dine once you spend $250 at program restaurants, bars or clubs. After you spend $750 in the program, you will earn 15% back on your dining.
My iDine Experience...
Joining iDine is easy. I went on the the iDine website and entered my personal information and registered my credit card. I received an immediate email verification and I was set to go. Using the website to find the restaurants in the program is also easy. I just put in a zipcode for both my home and work locations and I received a list of participating restaurants, which included not just family and fine dining, but also my favorite fast food - KFC.
I was very happy to see that fast food was on the list since families spend lots of money at fast food restaurants - at least this happens in my house since my 11 year old son is always hungry :)
My first iDine experience was at KFC. The KFC's closest to my home and work locations are not participating in the iDine program, but I found a location listed on the iDine website that was not far from work. Actually, I liked this location better the one that I usually go to because it is very large and the staff is super friendly. During my visit, I could tell this location is frequented by families because the walls were covered in Halloween crayon drawings done by children.
I ordered my KFC favorites and paid with the credit card that I registered on the iDine website. So I had to do very little work to earn 5% cash back on food that I would have bought regardless as to if I was part of the iDine program.
So if you are interested in earning cash back on your dining out, check out
iDine.com
.
GIVEAWAY
One FREEISMYLIFE reader will win a $20 American Express Rewards Card so that you can try out iDine for yourself. HOLLA to the FREE!
TO ENTER
- Fill out the information in the form below.
- One entry per person please. Duplicate entries will be removed.
- USA addresses only.
- The contest ends on Friday, October 21, 2011 at 11:59am EST.
- The winner will be selected by random number generation.
- Prize will be fulfilled by iDine or their PR company
(4) EXTRA GIVEAWAY ENTRIES
- You can get 1 extra giveaway entry for following FREEISMYLIFE on
Facebook
.
- You can get 1 extra giveaway entry for following the iDine on
Facebook
.
- You can get 1 extra giveaway entry for following iDine on
Twitter
.
- You can get 1 extra giveaway entry for tweeting the following message on
Twitter
"
I entered the @freeismylife giveaway to win a $20 American Express Gift Card to try @iDine http://bit.ly/n0oy0V"
Enjoy!
Disclosure: I received an American Express Gift Card as a thank you for trying out the program and posting this review. All opinions are my own.
Random.org has spoken! Out of 188 entries, Random.org has picked #73. Congratulations to the winner of the $20 American Express Rewards Card for iDine - Christine of Troy, MI !!!
Follow FREEISMYLIFE on Facebook