Fighting with your tweens and teens about brushing? Fight no more with this new oral care line by Colgate
Do you have problems getting my kids to brush their teeth? If you answered "Yes" then you must be experiencing the same resistance that I get from my son. When he was younger, we made a game out of brushing so he thought it was fun. But now that he is a tween, I swear he is always "forgetting" to brush until I "remind" him that he is not going anywhere until those teeth are clean.
The fun of brushing went out of style for my son a while ago and now it is just a daily battle in my house. So when Colgate asked me to review a new line of oral care products just for tweens and teens, I jumped at the chance to try something that would hopefully make my son want to brush his teeth. And my son, who loves to help me with reviews, was very excited to try the new products.
We were sent two toothpaste products to review. The first is the
Colgate Pop Stars Anti-Cavity Toothpaste
. This mint flavored toothpaste features star breath strips that dissolve inside your kids mouths to help keep their breath fresh while also providing cavity protection. My son thought the Colgate Pop Stars Toothpaste was very cool and I thought his breath smelled wonderful. But since he is not a mint lover, he was not that crazy about the overall taste of the toothpaste.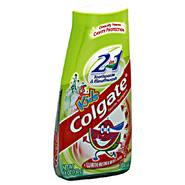 The second product that he tried was the
Colgate Kids 2 in 1 Anti-Cavity Fluoride Toothpaste
. Like the Colgate Pop Stars Anti-Cavity Toothpaste, this toothpaste also protects against cavities while fighting bad breath. But this toothpaste has one wonderful twist that both I and my son loved - it is watermelon flavored. My son came running to me saying how great this toothpaste tasted. Seeing him so excited, I also tried it and the kid is right - it tastes wonderful. I would have never thought to buy watermelon flavored toothpaste nor would I have thought that watermelon toothpaste could taste so good. If you are not a watermelon lover,
Colgate Kids 2 in 1 Anti-Cavity Fluoride Toothpaste
also comes in strawberry flavor.
Both the
Colgate Kids 2 in 1 Anti-Cavity Fluoride Toothpaste
and the
Colgate Pop Stars Anti-Cavity Toothpaste
retail for $3.29 each and are recommended for ages 8-12.
So if you are having trouble with your tween or teen brushing, I would highly recommend this fun, fresh and great tasting Colgate line of oral care.
Disclosure: I received the Colgate Tween & Teen Oral Care line of products for free for the purpose of writing this review.
Follow FREEISMYLIFE on Facebook
I will do a GIVEAWAY when I reach 300 followers !!!