Fashion with Comfort...
Herman Miller. The name alone is iconic. Who does not know about the Herman Miller company and the Herman Miller Eames Lounge Chair & Ottoman that are still fashionable even after 50+ years? I remember
sitting in a Herman Miller Eames Lounge Chair
a few years ago when I took my son to the Henry Ford Museum. I so wanted to take that chair home with me.
Herman Miller chairs are more than just furniture. They are works of art. So during my January trip to the Consumer Electronics Show (
CES
) in Vegas, I was happy to stop at the Herman Miller booth during a press event to learn more about their new products.
This is not your Everyday Office Chair
I got to try out one of their new office chairs called the SAYL. According to the website, the SAYL was designed to be an "affordable ergonomic work chair that incorporates everything Herman Miller is known for—beautiful design, first-class ergonomics, elegant engineering, and respect for the environment".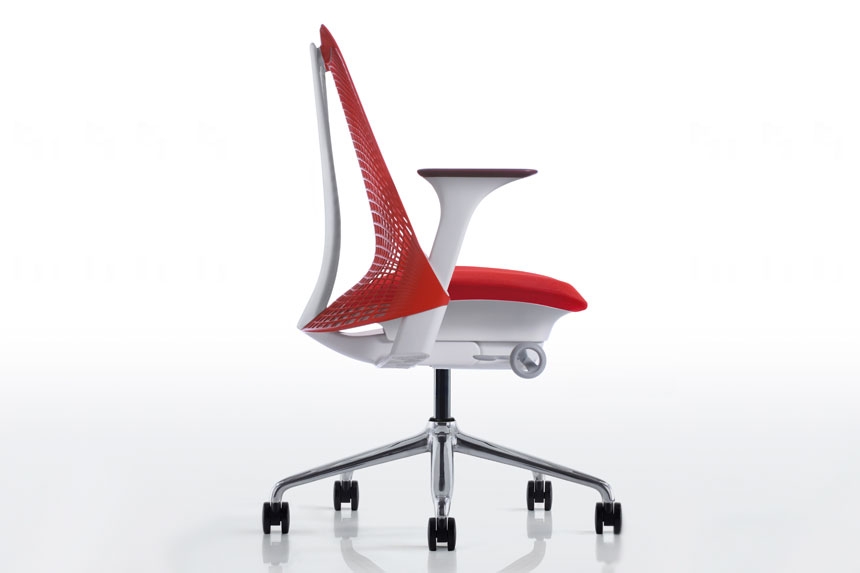 3D Intelligent Technology means No Frame is Needed
I am sure you are wondering why an office chair was at a technology conference like CES? Well, the design of the SAYL utiltizes a 3D Intelligent suspension back that eliminates the need for a frame. The chair was designed to incorporate the same engineering principles as a suspension bridge. According to the website "The suspension back is a flexible elastomer that adapts to each person's unique shape and provides exceptional comfort and support for just about all body types".
When I saw the chair all I really wanted to know was if it is as comfortable as it is fashionable - and the answer is yes. Actually it was so comfortable, I was sitting there relaxing and talking with the Herman Miller marketing rep and Laura (
LauraInTheMotorCity.com
) instead of taking photos and getting literature like I was suppose to be doing. My office chair at home has a polished aluminum base and I love that the SAYL Chair comes with an aluminum base as an add on option.
If you are looking for a fashionable, comfortable office chair made by a Michigan based company, think Herman Miller and the SAYL Office Chair.
The SAYL Chair is sold on the Herman Miller website starting at $399
.
GIVEAWAY
Are you on Twitter? Do YOU want to WIN a SAYL?
Believe it or not, Herman Miller is giving away a SAYL Chair! All you have to do to enter the contest is tweet a TwitPic or YForg image that answers the question "How do you live unframed?" and include the hashtag
#liveunframed
in your tweet.
Entries must be submitted no later than February 11, 2011
.
Go to the Herman Miller blog for more information on the SAYL Giveaway.
Enjoy!
Follow FREEISMYLIFE on Facebook