photo credit: J. Harper
Sports Fans Know Where the Good Food Is...
When I agreed to do a review of
Coaches Corner Sports Bar & Grill
, I actually had to look up the address because I didn't know where it was located. Now as a die heart Detroiter, I was surprised that I did not know that a restaurant existed in my old stomping ground, but I am very happy that I have now made its acquittance.
Harmonie Park is still alive and kicking....
Coaches Corner is in a section of downtown Detroit that I grew up knowing well. When my mom would take my sisters and I downtown to go shopping, she would allow me to put the coins in the meter at our parking spot in Harmonie Park and we then would walk the two blocks down Broadway to the old J.L. Hudsons store on Woodward.
Over the years, the storefronts doing business in Harmonie Park have changed many times over and Coaches Corner is at a location on the corner of Centre and Grand River that has had as many lives as a cat. I remember it being an art gallery and a few different eating establishments. But it appears that the location's close proximity to Ford Field and Comerica Park and this restaurant's hearty game day menu has made for the perfect combination of factors that has allowed Coach's Corner to thrive and grow at this spot for the past 5 years.
A Beautiful Day in the D for trying new things...
I visited Coach's Corner for lunch with Laura from
LauraInTheMortorCity.com
. It was one of the first beautiful days in Detroit and we picked a table by one of the huge picture windows so that we could sit in the sun. As we were looking at the menu, Heather, the manager of Coaches Corner came over and introduced herself.
I love it when folks love their job...
One of things that struck me about Heather was her exuberance. We could tell that she truly loved her job. She told us that Coaches Corner was gearing up for the Detroit Tiger's Opening Day. And the restaurant is doing so well that they are in the process of filling an additional 23 new positions. There is no better news a Detroiter can get than to find out that a business is doing so good that they can put even more Detroiters to work.
After meeting with Heather, we turned our attention to the menu since we were really hungry. The
Coaches Corner menu
is full of the kinds of game day food that sports lovers require and we were ready to dig in and try some for ourselves.
Yummy! photo credit: Jackie Harper
We started out with the breaded Chicken Strips which were served with a wonderful ranch dipping sauce. The chicken was excellent and Laura was loving the dipping sauce so much that she asked our server about it. Turns out it is a special combination produced by
Niki's Restaurant in Greektown
.
Our server with the massive plates of food... photo credit : J. Harper
Photo credit: J. Harper
A Burger the Size of My Car...
For my entree, I had the Coaches Grand Slam Burger which, I am not lying, covered my entire plate. I actually had to cut it in half in order to manage it. This burger is a 1/2 lb Angus beef cooked with a special house sauce, topped with bacon, a large onion ring, a queso bite, lettuce, tomato, pickle, Swiss cheese and a ton of beautiful golden fries. It was massive, it was delicious, it was decadent - and I loved every bite.
Laura had the Greek Salad with Chicken which contained lettuce, feta cheese, beets, diced tomatoes, kalamata olives, pepperoncinis, red onion, lightly breaded chicken strips and more of that Niki's famous Greek Dressing. She commented many times over as she dug into that salad how delicious it was. It was wonderful to just sit in the sun and enjoy our meals and watch the people walk by.
The whole meal was excellent and I see why this place is packed on game days. Our server of course had to bring us both doggy bags since we could not eat everything.
The Bar Accessory. photo credit: J. Harper
I would highly recommend Coaches Corner for their excellent food and service. Detroit sports fans definitely know where to go to get good food in downtown Detroit
Ways to Save at Coaches Corner
Make sure to follow Coaches Corner on
Facebook
where you can save money on your visit by following their daily specials. You can also get 20% off your food bill until August 9th for 3 check-ins on Foursquare.
Coaches Corner Bar & Grill
1465 Centre Street
Detroit, MI 48226-2209
(313) 963-4000
http://coachescornerdetroit.com/2010/?id=home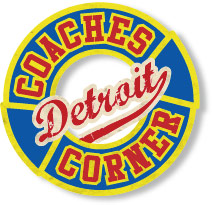 GIVEAWAY
Six FREEISMYLIFE readers will each get a $25 Gift Certificate to Coaches Corner to try all this goodness for themselves. HOLLA to the FREE!
TO ENTER
- Fill out the information in the form below.
-One entry per person please.
- The contest ends on Monday, April 4, 2010 at 11:59am EST.
- The winners will be selected by random number generation.
- The winners must live within driving distance of Detroit's Coaches Corner Bar & Grill. USA addresses only.
- Coaches Corner gift certificates will be distributed to the winners via U.S. mail.
- You can get 1 extra contest entry for following Coaches Corner on
Facebook
. Write on their wall "
I heard your burgers are as big as my car ;)
".
- You can get 1 extra contest entry for following FREEISMYLIFE on
Facebook
.
- You can get 1 extra contest entry for Tweeting the following message on
Twitter
"
I entered the @FREEISMYLIFE contest to win a @coachesdetroit $25 Gift Certificate http://t.co/lUBfvNe"
Good Luck!
Random.org has spoken! Out of 131 entries, Random.org has picked the following 6 winners who will each get a $25 Gift Certificate to Coaches Corner. Congratulations to -
1. Jodi K. of Howell, MI
2. Ken B. of Warren, MI
3. Paul W. of Southfield, MI
4. Emily M. of Berkley, MI
5. Dave K. of Trenton, MI
6. Regan M B. of St. Claire Shores
Follow FREEISMYLIFE on Facebook
Like the photos in this story?
This is the camera that I use (affiliate link)...