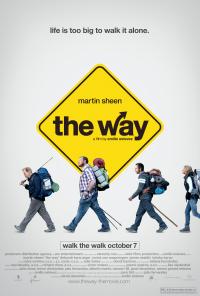 You are invited to an advance movie screening of "THE WAY"
Martin Sheen plays Tom, an American doctor who comes to St. Jean Pied de Port, France to collect the remains of his adult son, killed in the Pyrenees in a storm while walking The Camino de Santiago, also known as The Way of St. James. Driven by his profound sadness and desire to understand his son better, Tom decides to embark on the historical pilgrimage, leaving his "California bubble life" behind.
While walking The Camino, Tom meets other pilgrims from around the world, all broken and looking for greater meaning in their lives: a Dutchman, a Canadian, and an Irish writer who is suffering from a bout of "writer's block." From the hardship experienced along "The Way" this unlikely quartet create an everlasting bond and Tom begins to learn what it means to be a citizen of the world again discovering the difference between "The life we live and the life we choose." "The Way" was filmed entirely in Spain and France along the actual Camino de Santiago.
Staring Martin Sheen, James Nesbitt, Deborah Kara Unger, Yorick van Wageningen, Emilio Estevez
Theater: Landmark's Maple Art Theatre
4135 West Maple Road., Bloomfield Hills, MI 48301
Screening Date: 07-20-2010
Time: 7:00 PM
CLICK HERE TO RSVP