All-new Ringling Bros. and Barnum & Bailey Circus experience coming to The Palace of Auburn Hills
The mystery of magic and the mastery of skill will leave audiences spellbound as Ringling Bros. and Barnum & Bailey® Presents ZING, ZANG, ZOOM®, a mind-blowing circus spectacular where family fun is no illusion. Magical Zingmaster Alex and his assistant, the alluring Levitytia, lead audiences through a kaleidoscope of color and imagery that reveal extraordinary worlds of fantasy and phenomena that celebrate the uplifting spirit of the circus and also ward off a cynical Mr. Gravity and his team of Heavies who try to bring everyone down.
ZING ZANG ZOOM provides hours of thrilling entertainment that is fun for the whole family for about the price of a movie ticket. Ringling Bros. offers the greatest value in family entertainment making the circus Ticketmaster's number one most purchased family event.
Tickets for ZING ZANG ZOOM are affordably priced, starting at $12.50. Additional fees may apply. Tickets go on sale Monday, October 18 at 10 a.m. at The Palace Box Office, all Ticketmaster locations, The Palace Locker Room Stores at www.ticketmaster.com and www.Ringling.com. To order tickets by phone, call 1-800-745-3000.
Circus goers will watch in amazement as the high flying circus is literally turned upside down. They will witness apprentice illusionists from the audience mysteriously levitate their parents, and they won't believe it, as a four-ton elephant disappears before their very own eyes. Spectators' jaws will drop wide open when they behold Mr. Gravity transform from a human into ferocious tiger.
Illusions and magic won't be the only acts to excite and astound audience members. This all-new circus has some of the most incredible thrill acts ever seen. Families will be breathless as they watch fearless human cannonballs blasting through the air in a dramatic display of daring bravery. Moms, Dads, and kids will teeter on the edge of their seats as they watch the Qi Qi Har Chinese Swinging Log Trapeze act making its debut in North America. A treacherous never before seen quadruple Russian fire-swing sends acrobats crisscrossing two stories in the air and the renowned dangerous dueling wheels of steel defy gravity and logic.
But perhaps the most magical of all will be the amazing and incomparable array of exotic animals, which includes a herd of grand Asian elephants, magnificent Bengal tigers and elegant Arabian and Friesian horses that join forces with human performers to create an experience that will surprise and delight Children of All Ages.
Arrive an hour before show time for the Ringling Bros. Clown College® All Access Pre-show – FREE to all ticket holders, and meet performers and animals, learn circus skills and enjoy a taste of the performance before the show even starts!
Performance Schedule
Wednesday, Nov. 10 and Thursday, Nov. 11 at 7:30 p.m.
Friday, Nov. 12 at 11 a.m. and 7:30 p.m.
Saturday, Nov. 13 at 11:30 a.m. 3:30 p.m. and 7:30 p.m.
Sunday, Nov. 14 at 1 p.m. and 5 p.m.
For more information on The Greatest Show on Earth visit
http://www.ringling.com/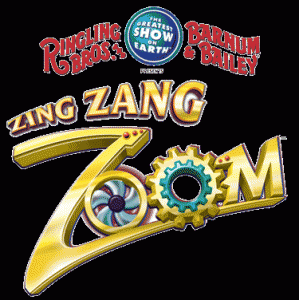 GIVEAWAY
Ringling Bros. and Barnum & Bailey is graciously giving one FREEISMYLIFE reader four complimentary passes that can be redeemed for four actual tickets at the Palace Box Office for any of the show dates listed below:
Wednesday, November 10th at 7:30pm
Thursday, November 11th at 7:30pm
Friday, November 12th at 7:30pm
TO ENTER-
Fill out the information in the form below.
- One entry per person please.
- The contest ends on Saturday, October 30th, 2010 at 11:59am EST.
- 1 winner will be selected by random number generation.
- Winners will be contacted by email and the passes will be mailed out on Saturday afternoon via US mail.
- You can get 1 extra contest entry for following
FREEISMYLIFE
on
Twitter
.
- You can get 1 extra contest entry for liking FREEISMYLIFE on
Facebook
.
THESE VOUCHERS ARE FOR USE AT THE PALACE OF AUBURN HILLS. Please don't enter if you don't live within driving distance of The Palace.
Good Luck!
CONTEST CLOSED and FORM HAS BEEN REMOVED.
OUT OF 60 CONTEST ENTRIES, RANDOM.ORG PICKED #55.
CONGRATULATIONS TO OUR WINNER PETER C. FROM MADISON HEIGHTS!!!
Follow FREEISMYLIFE on Facebook
I will do a GIVEAWAY when I reach 200 followers !!!