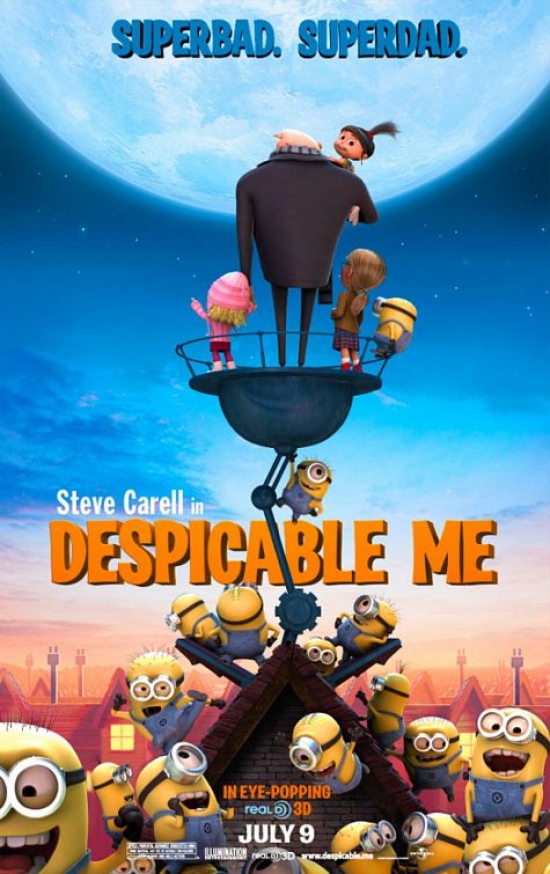 Great Animated Action!
S
aturday morning, my son and I went to see an advance screening of the animated kids' movie "
Despicable Me in 3D
" at the Birmingham Palladium. I received the movie passes courtesy of Universal.
"Despicable Me" is about an aging villain named Gru (voiced by Steve Carell) who is being out done in the evil department by a younger and nerdier villain named Vector (voiced by Jason Segel). Vector was successfully stolen the great pyramid in Egypt, so Gru decides to out do Vector by pulling off the ultimate heist with the help of his minion army - stealing the moon!
When Gru's plans are derailed by Vector stealing the shrink gun that Gru needs to steal the moon, Gru comes up with an evil plan to adopt three orphaned sisters to help him break into Vector's house to get back the shrink gun. But it's Gru who needs help once the girls move into his evil laboratory and take over the place and his life.
This is a great movie with lots of action, tons of laughs and touching moments. Gru's despicable actions are over the top funny and the minions are delightful. Gru's transformation from "Super Bad" to "Super Dad" is both charming and laughable. And the animation and music in this movie are great. My son LOVED "Despicable Me" and so did I. My only criticism is that there are not more 3D scenes. But don't walk out of the movie when the credits roll or you will miss some really crazy 3D action that was saved until the end.
"Despicable Me" opens in theaters Friday, July 9, 2010.
Play These 3 FREE Despicable Me Online Games -
Here's the Trailer