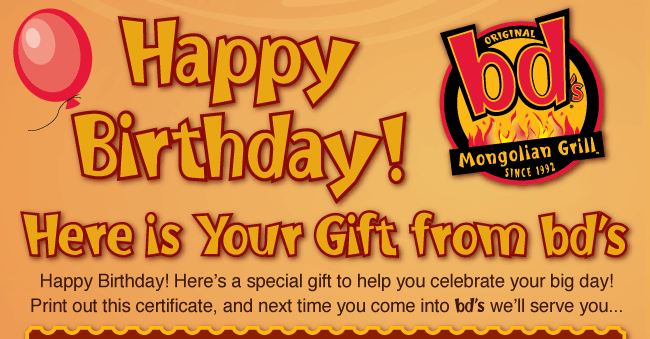 How to get a FREE bd Mongolian Grill unlimited bowl meal for your Birthday!
Today I am continuing my new series called "
Free On Your Birthday
" where I highlight companies that want to help make birthdays more special - and FREE! Two weeks ago, I celebrated my birthday and I am making my way through all the email birthday offers I received from businesses.
So far, I have written about my FREE 16 oz drink from
Orange Julius
, my $30 free lunch at
Benihana
, and the
Denny's Grandslam
that I did not get to try because the FREE coupon was only good on the day of my birthday.
Now, I want to tell you about my wonderful FREE lunch at
bd Mongolian Grill
. A good while ago, I joined
Club Mongo
where in exchange for my email address, bd offered to send me an occasional newsletter and something special for my birthday. This something special is a voucher for a FREE meal. I received my voucher by email 7 days before my birthday and the voucher is good for 14 days from the date it is sent.
I decided to go to Mongolian Grill for lunch. The servers and staff were super friendly - they are totally into good customer service. After I was seated, I handed my server the voucher. I did not have to provide any proof of who I was or my date of birth. The server explained that the voucher covered everything except my drink and my dessert and that I could have unlimited everything else.
I had not been to a Mongoilan Grill in some time, so I had to get used to the concept of getting my own food and taking it to the grill. There are multiple stations in the food prep area. The first station contains meats and seasonings. You can have one meat per bowl so I chose the raw chicken with teriyaki seasoning. The second station contains all kinds of vegetables so I chose lots of broccoli and mushrooms.
(Click here to view all the offerings for each station.
) Everything from the meat to the vegetables have to fit into the bowl. There is also a salad station where you get a separate plate for that preparation. I took my salad to my table and then my bowl back the grill.
The guys running the grill are very friendly and they talk with you while they are grilling your meal. They were running a poll the day I was there about the new ABC TV cop drama "Detroit 1-8-7" to see who liked it. They had a customer count and the results on the black board behind the grill, and if you care, no one liked the show.
After my meal was cooked, I took it back to my table to chow down. I was totally full by the time my server made it back to see if I wanted another bowl for another round. Everything I ate was delicious and everyone from the greeter to the guys at the grill were very nice. The whole experience was wonderful and totally a great birthday treat.
It is definitely worth joining
Club Mongo
for this FREE birthday meal.
Enjoy!
The poll that the Mongolian Grill was running for Detroit 1-8-7 got me to thinking about my own blog. So, here's a list of the top 10 posts with the most page views over the last 7 days on Free Is My Life...
1 -
FREE On Your Birthday: Benihana
2 -
MOVIE REVIEW & GIVEAWAY: Secretariat
3 -
"Taking Time for Me" Series: Pampering for Pennies
4 -
COUPON: Macys Wow Pass for 15% off purchases
5 -
REVIEW: Detroit Fashion Week Salon Showcase
6 -
FREE Limo Rides at "Girls' Night Out" in Rochester
7 -
Blogging and the City - BlogHer 2010: How UPS Saved my Swag
8 -
Free Xtend Barre Workout Class At Somerset Mall
9 -
EMPLOYMENT: Michigan Nonprofit Job Center - September 23, 2010
10 -
FREE International Freelancers Day Online Conference
Follow FREEISMYLIFE on Facebook
I will do a GIVEAWAY at 100 followers !!!