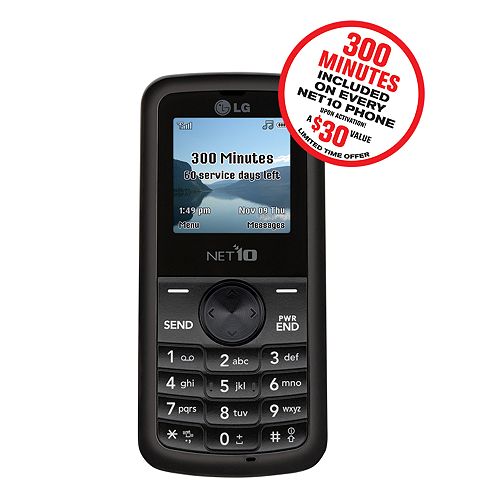 NET10 LG 300G Phone
ATTENTION TARGET SHOPPERS: NET10 LG 300G CELL PHONES ON CLEARANCE 1/2 OFF
Last Friday, I was in Target wading through one of the clearance shelves (my fav thing to do in Target) when I came across a
Net10 cell phone
that had been marked down 50% to $14.98. My son has been begging for a cell phone for almost a year now so I started reading the Net10 packaging and the display pamphlet. I found out that each Net10 phone comes included with 5 hours of talk time (300 minutes) that's good for 60 days.
So I started thinking that this would be a great way to get my son a cell phone with no commitment and very little money out of my pocket. For only $14.98 plus tax, my son could have a cell phone for two months and I would have those two months to gage if he is responsible enough to take care of a cell phone (not lose it, keep it charged, not leave it in his pants pocket to be washed with the dirty clothes).
I decided to give it a try. The phone can only be turned on if it is scanned at checkout (stolen phones cannot be activated). The minutes can be activated online or by calling a 1-800 number. I called the 1-800 number and the rep asked for my name, address, and home phone number to setup the account. She then walked me through how I could tell if the phone was activated and where to look on the phone to find the phone number. The whole activation process took 10 minutes total and my son was up and making his first phone call in no time flat.
The phone on clearance is a LG 300G. The size is 1 1/2 inches wide and 4 inches long. It has a 1x1 inch color display screen. The start screen displays the total minutes available and the date that the minutes expire so you know when to add more. You can keep the same phone number as long as you add more minutes before the expiration date.
The LG 300G has texting capability. If I had paid the full $30 price, the cost would have been 10 cents a minute for calling and 5 cents per text. Since I only paid 1/2 price, the cost is 5 cents per minute calling 2.5 cents per text. Phone numbers can be programmed into the phone for fast access by name. The phone has an alarm clock, calendar, notpad and calculator. It also has two games: Sudoku and Battle Reversi. These are all pretty good features for a basically free phone where you are only paying for the service. Also NET10 service covers most of the United States (see map below).
Net10 Service Coverage Map
This basic NET10 phone is good for my son since this is his first cell phone and he is only 10 years old. This phone would also be good for someone that is "tech challenged" or does not want or need all the advanced features on most cell phones. My mom still does not know how to work her cell phone and she almost never uses it, so a basic cell phone like this one would be perfect for her.
The reason that Target had this phone on clearance is because Net10 has come out with a new model with more advanced features (larger color display, camera, keyboard, etc) but the new model will still come included with 300 free minutes that are good for 60 days. I went to another Target by my home and found another LG 300G phone at the same clearance price. So if anyone is interested in getting this clearance LG phone deal, hurry to your local Target before they are all gone.
Even if you don't get this LG 300G phone, the regular $30 for 300 minutes/60 days included with all
Net10 phones
is still a good deal. But of course, half price is a steal :)
CLICK HERE TO LEARN MORE ABOUT NET10
Enjoy!
Disclosure: Because I love the Net10 service plan and the phone that my son has (and I bought a second one on clearance at Target), I have added Net10 to my mylikes.com sponsored links. This means, for a limited time, I will get a few cents commission when you click on any Net10 link on this blog.
Follow FREEISMYLIFE on Facebook
I will do a GIVEAWAY when I reach 100 followers !!!